'KOKONOE"YUME"OTSURIHASH'is opened in October 30th, 2006. It is 390 meters long, 173 meters high, 1.5 meters broad and it is the highest suspension bridge which is only for walkway in Japan.
Right front of this bridge, you can see 'Shindo-no-taki' or 'Medaki'which are selected as '100 beautiful waterfalls in Japan'. Beyond the bridge, thegreat forest of Narukogawa-Keikoku(the headwater of Chikugo-river) spreads and you can enjoy the attractive view of each seasons.
Also, you can see'Kuju-Renzan (mountain ranges)' such as Mimata Mt. and Waita Mt.in the distance.This beautiful 360-degree-view is "walkway in the sky" worthy of its name.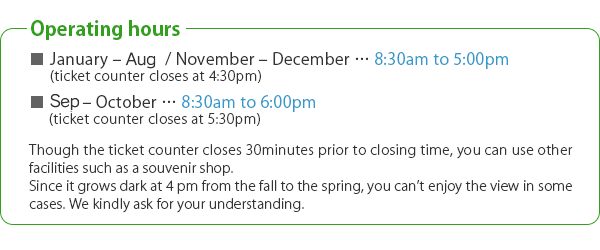 Managemant center for KOKONOE "YUME" OTSURIHASHI
1208, Tano, Oaza, Kokonoe-machi, Kusu-gun, Oita, 879-4911, TEL +81 973 (73) 3800